Bowen Island Health Services
If you're looking to buy real estate on Bowen Island or are already a resident, it's important to know the resources available to you and your family, especially around health services.
Recently, we spoke to Colleen O'Neil, a former 'navigator' for Vancouver Coastal Health. Colleen is the co-Founder and current Program Coordinator of the 
Caring Circle.
 Located next to the 
Cove Commons
 and 
the Library
 in Snug Cove, the Caring Circle is a multi-resource centre dedicated to providing Bowen residents with the best health services possible.
In the following interview, Colleen explains who the Caring Circle serves, how Caring Circle take care of people and Bowen, and why the organization is so important to the Island, its residents, and beyond. Colleen also explains why the Caring Circle is a model for other community and a service that all Bowen residents need to know about.
Vaune:
So, Colleen thanks for joining me today.
Colleen:
You're welcome.
Vaune:
Colleen, can you tell us who does the Caring Circle serve?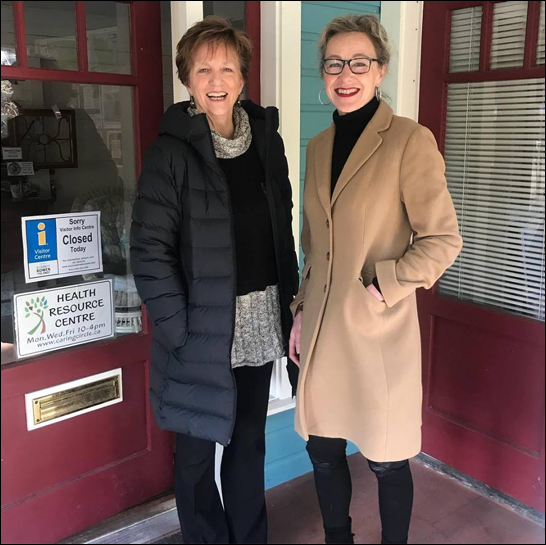 Colleen:
We serve all Islanders. So, generally, our demographic that reaches out for support from me is often elders or people kind of over 60. But we also reach out to all Islanders --so young families, kids, everybody.
Vaune:
So, how do you serve them then?
Colleen:
So, our primary program and why and how I got involved in this is I felt like because Bowens underserved around health services we have one doctor really one doctor equivalent for 3,700, 3,800, people. So, people weren't getting the health care services that they actually are entitled to. And part of that was just from lack of information.
And, I used to do health navigation in Vancouver where I helped people access health services. So, I thought maybe there's a role here on Bowen for this. Because people were calling. All the nurses on Bowen get phone calls from people all the time, asking "How do I get a nurse?" or "How does this happen?" "How do I get medical equipment?"
And so, I thought well maybe I'll just open a space and see what happens.
So, that was four years ago. And we've gotten government grants to help support some salary because I volunteered the first year. 
Health navigation is helping people access the services 
that are available to them that they might just not know about.
 ~Colleen O'Neil, Program Coordinator
So, people come in...so health navigation is helping people access the services that are available to them that they might just not know about.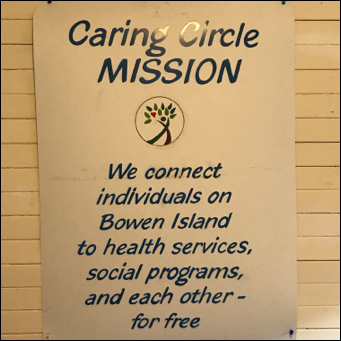 So, I don't give medical advice I just tell people, 
"Look, you need to call Vancouver Coastal Health here's the number"... 
..."Oh, you need 
home support services
 here's who you call"...
"You need a disability pension here's a form here. I'll help you fill it out. Here's how we can do it online. I can help you do that if you don't have a computer."
Just a whole raft of things. So, that's the health navigation component.
Plus, Caring Circle does advocacy around improving services for Bowen. 
So, we played a big role in the emergency weather shelter that we're working on, that you know a bit about.
The 'Paramedicine Program'. 
You know, Bowen got chosen to have paramedic paramedicine practitioners on Bowen. Caring Circle started two years ago, trying to advocate to make sure that happened on Bowen. Because not every community gets paramedicine practitioners.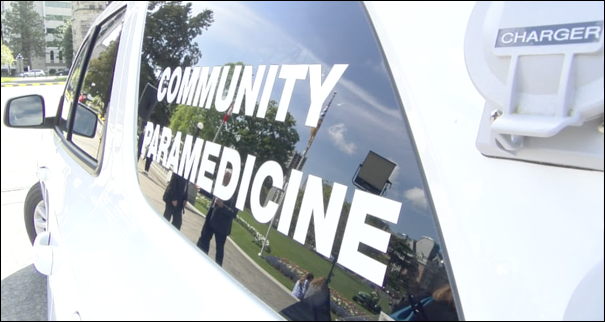 So, health advocacy.  And, then I think just health education. 
"We've done, we do tons of programs,
such as postpartum depression, anxiety and depression,
end-of-life workshops on advanced care planning,
medical-assisted death."
And, we did workshops on hearing problems, hand mobility, and asthma clinics.

We've done...hmmm...What else?... clinics. We have hearing testing here once every few months. Any kind of courses that when people come to me and say, "Why don't you do something on such-and-such?" I try to take the lead from the community. People who say...."Oh okay, well let's look at doing something like that. 
So yes, it's a programming, advocacy, health navigation.
Vaune: Excellent. Wow. So, Colleen, why is the work of the Caring Circle so important to the community?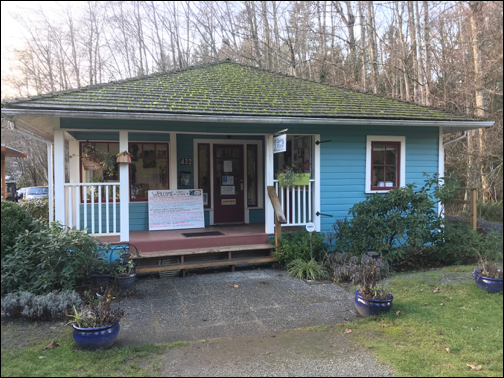 Colleen:
You know, we're underserved in terms of primary health care services. So, most people have to go off-island to get their health care. Because we really only have one physician equivalent here and 3,800 people. The Ministry of Health says we should have one physician for 1,200 people. So, we could theoretically have everybody get their health care on Bowen and have three full-time physicians.
Anyway, so people aren't getting to see their doctor. We did a health survey. And, 86% of us have a doctor, but when we asked the question, "How many of you are actually getting out to see your doctor?" it was something like...I don't know...I forget the stat now, but a huge percentage of people said, "No, I'm not accessing the services"...
..."It's too complicated"...
"My kids are sick, one of them sick, and two others are in school. I can't get into town to get the sick one treated without taking all three. We go in at 8:00 at night, we have to spend the night, I don't have the money to spend the night, where are we going to stay?"
So, people aren't getting to see a primary care doctor.
So, I guess we're just trying to fill the gaps in terms of okay if you're going to be on Bowen and you're somewhat vulnerable let me help you try to find the services that maybe you can get here on Bowen.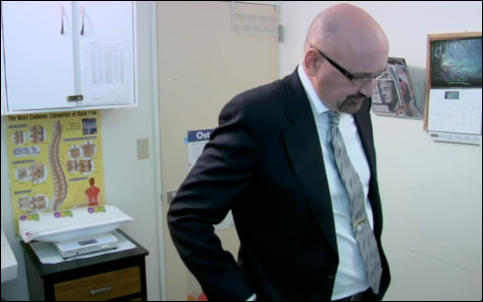 So, that's part of the role that I am trying to fill.
And, also trying to advocate for services. Like for instance, we had this asthma clinic and a whole bunch of young moms with their young kids came.
And one story that I just love is one of the children who was about five, his asthma was completely out of control. We brought the asthma nurse here. So, lots of GPs don't know all the puffers and everything. The asthma nurse came, laid out all the new kinds of puffers, all the new technologies, got this kid on to a different kind of medication. The mother met me in 
the General Store
 and said crying, "For the first time in three years, my son's asthma is under control."
So, I didn't do that. You know, I realize that people aren't getting into town, or they're not getting to see their primary care physician. So, can we have a diabetic clinic. Can we have an asthma clinic here. I mean, ultimately, we're trying to build a clinic on Bowen so that we have better services.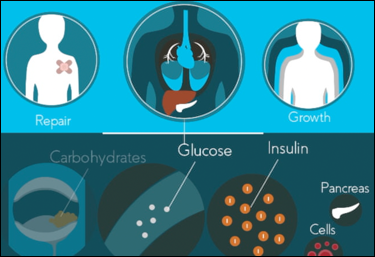 I also think the other thing is people are somewhat isolated here. In terms of seniors, somebody said to me, "The pioneer spirit that attracts people to Bowen Island when they're young doesn't serve them well when they're elders."
And, I think that's the key. People are out in the woods, in a little house by themselves, their partner's died, they're 82, they're living by themselves, their friends are whittling away, a little bit, people are dying off, and they're lonely and alone, and they don't know, maybe they don't know a computer, and how to manage that, so they come in to me.
That's a lot of the people who come in to me [say] "I don't know, I'm not doing well, I don't have food in the house, I don't know where to get it, I can't go to the grocery store, what can I do?"
And, I'll just walk people through that.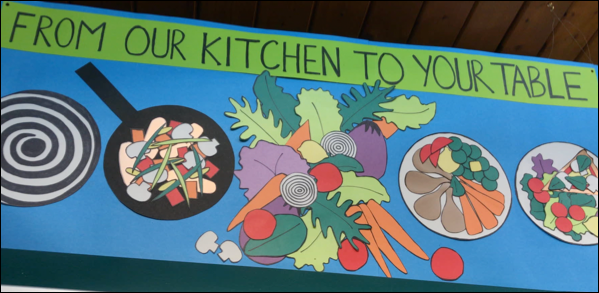 "You can get 
Fresh Street
 to come, you can get 
Stong's
 to come. What about the 
Ruddy
?" 
I actually help local businesses a lot. "Don't forget to go to the 
Village Baker,
 they make great chicken pies. You can divide it up and freeze it." 
And, I mean it's kind of being motherly, right, but just kind of helping people find services, to allow them to stay at home, for as long as they want.
"Because people want to stay at home they don't want to go into a care facility in town, right? So, I'm trying to be able to help people stay in their homes, as long as they can, and get the health support they can."
Vaune:
Wow. So, the Caring Circle is a real hub for people just to come to, and find their way, and kind of solution that they need.
Colleen:
Yeah, it can be "Just look don't forget you can get a toilet seat riser here," or "We have a local occupational therapist that you could hire privately to help you figure out how to live at homes more safely." "Don't forget you can get 
physio from Vancouver Coastal Health;
 here's the number you call." Here's how you get a referral."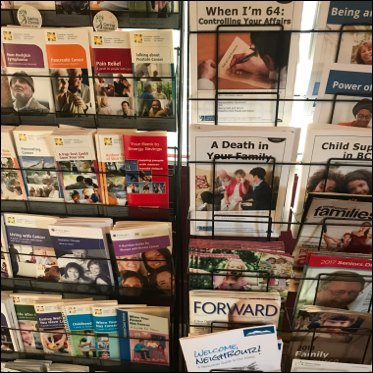 That kind of thing so that people can live safer in their homes longer.
Vaune: Wow, great. So, Colleen, it sounds like there are some challenges in terms of living on Bowen and being able to access all the services that one might need. 
But, what's your experience, why do you think that people really want to stay on Bowen? And, you know, what is that love that keeps them here?
Colleen:
Yeah well, I think, firstly, nature. So, you can live on Bowen and hear the birds sing, and hear the ocean, from many of our lots. And, you know, I think we all come because we have some affinity for being close to nature. And just the lack of cement and the quiet of the green space. So, I think that's the primary reason why so many people come to Bowen.
But you know, the Vancouver Coastal Health did this 'My Health, My Community
' 
survey a few years ago. 
And one of their questions was 
'How do you rate your sense of belonging in your community?'  
and Bowen Island rated the highest of the entire Lower Mainland.
So, I think that that's the thing that also attaches people to Bowen and makes us feel like we belong here. Because we know our neighbours; and our neighbours know us and we reach out to each other.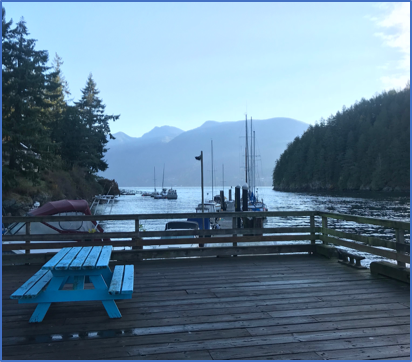 And partly it's not like we're more feeling towards each other, or more compassionate. We just happen to know each other, because it's a smaller community.
And, I think people are naturally compassionate when we see people suffering.
And so, I think that people feel supported here.
They feel like they belong because people, Nancy, says "hi" to them in the General Store.
"How are you doing?"
People kind of know that you just went in for surgery and they're going to bring you a casserole.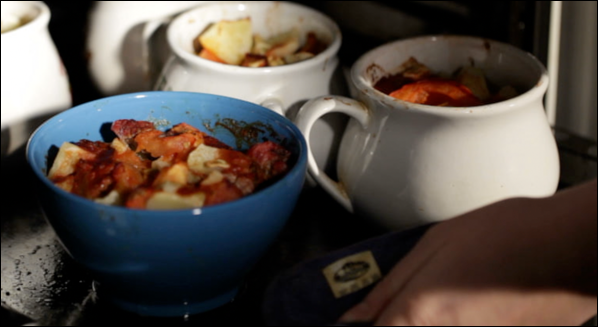 So, I think that our elders who maybe are fragile around their health, and nervous about staying here because of lack of health care, there's so many other benefits to their health around feeling connected.
Socially connected to your community is one of the social determinants of health, mental health in particular.
But, also, it goes over into your physical health. How much do you get out, walks, see your friends, talk, keep engaged intellectually, in the community where you have a sense of belonging and connection with each other, we're just generally healthier.
Having people say, "How's it going?" on the ferry.
Vaune:
It's a great feeling.
Colleen:
It is! You know when I was sick, I had a cancer diagnosis. Some people like to keep private about that. I didn't. But boy, when flowers start coming to the door, and casseroles just arrive with a little knock, I don't ever want to move from here.
People really find out that you're not doing well, and they're reaching –they reach out and they care. Yeah, It's wonderful. 
 That's a great reason why, I think, people stay. People come for nature. People stay for the, I think, social connection.
Vaune:
So, Colleen, how is what you're doing here at the Caring Circle a model for other communities?
Colleen:
You know, it really is. There's no other community, that I know of, that has a health navigator, working in their community.
Health navigation, though, has become a big thing. Because hospitals are starting, Health Authorities are starting, to realize that people are getting lost in the system. It's so complicated.
So much of it's online. So many people over, maybe 80, don't understand the whole online world.
And, even if you do, it's complicated trying to find out where I get my biopsy results, on and on.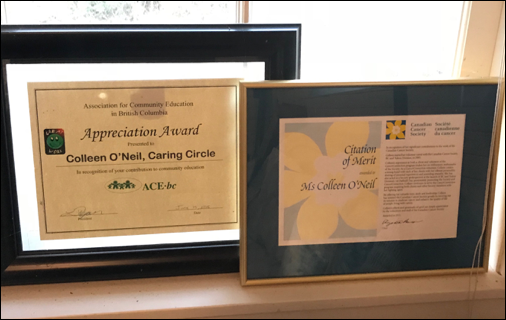 So now, hospitals have them: like the Women's Hospital has a breast cancer navigator. I think the Jimmy Patterson Pavilion, or maybe it's St. Paul's, has a prostate cancer navigator. So, when people get diagnosed with prostate cancer and there's all of these options just like breast cancer. "Should I have a mastectomy?" "Should I have a lumpectomy?" "Should I have chemo?" "What about radiation?" The navigator walks people through it.
So, I have heard people at Vancouver Coastal Health say, "Wow, what you're doing is amazing." 
Vaune:
Amazing. Thanks Colleen!
Colleen:
You're welcome.
You can read Part Two of our interview with Colleen O'Neil and the Caring Circle 
here.
 Watch the video interviews 
here
 and 
here.
 [Links]
If you're looking to buy real estate on Bowen, or are already a resident, and are needing more info on the Island don't hesitate to contact me, Vaune Kolber.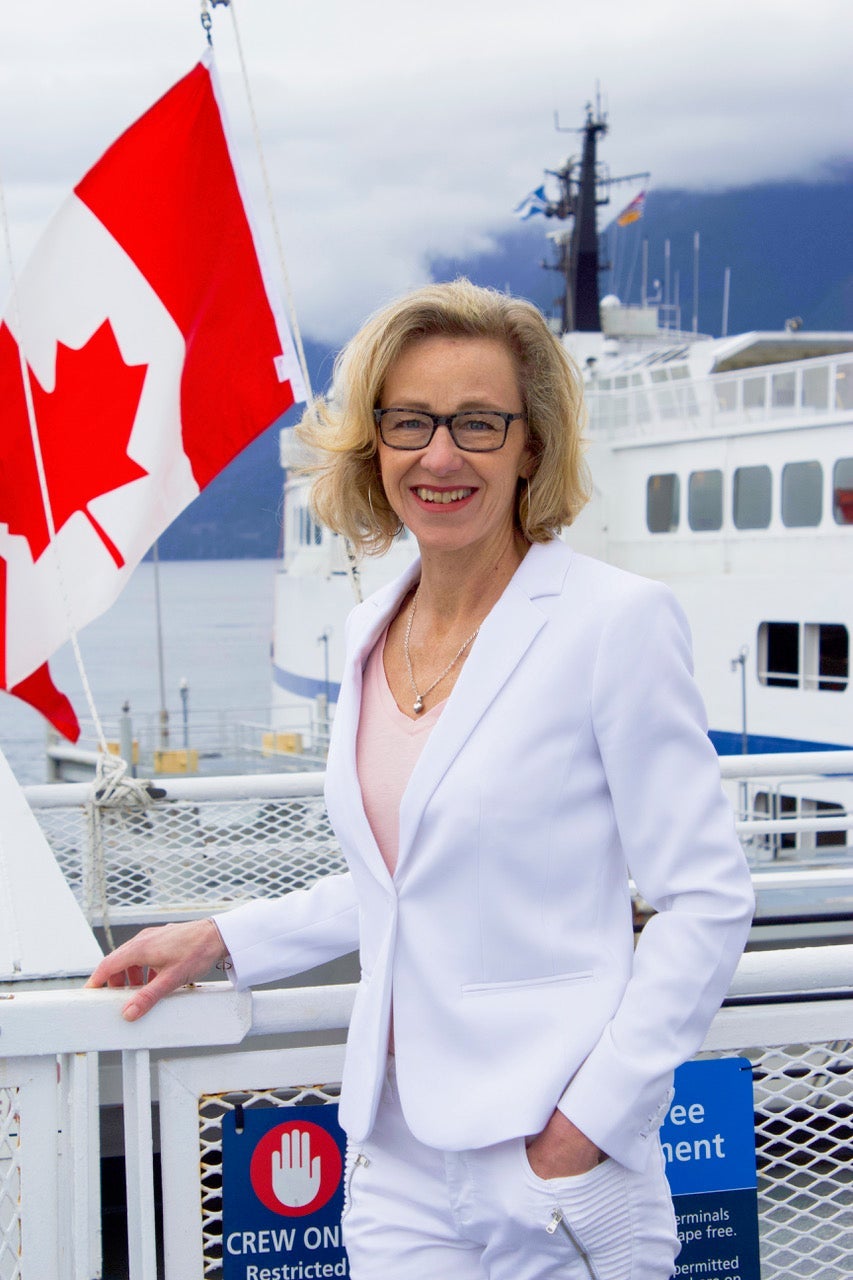 You can call or text me at 604.506.7534. Or visit my website 
Better on Bowen Real Estate
. Current listings on Bowen are located 
here. 

You're going to LOVE your new home! I love every minute of helping people buy/sell their homes on Bowen and in the Vancouver region.

I can also help you with referrals outside the Lower Mainland. Give me a call or text at 604.506.7534 to find out more.